How Can You Increase Organic YouTube Views?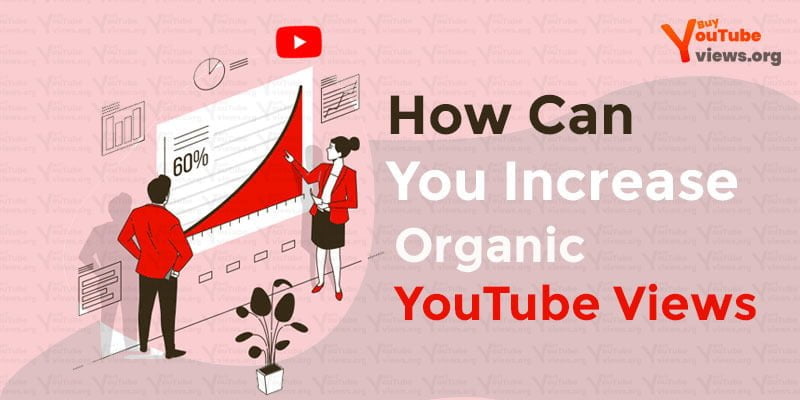 How Can You Increase Organic YouTube Views?
How can you increase organic youtube views? Out of all the popular social media platforms, YouTube is the second-largest coming in at 1.5 billion users. Teens are highly active on the platform and the majority say they use YouTube over all other platforms. That's also why it comes as no surprise that digital ad spends surpassed television for the first time last year.
How does YouTube rank videos?
YouTube ranks videos based on the following:
Video quality
Channel keywords
Video watch time
View count
User experience metrics
Thumbnails
Onpage SEO
If there's one thing to note, YouTube strongly ranks videos on audience retention—how long users watch a video. Similar to high-traffic websites, if viewers are tuning in to a video longer, YouTube recognizes the content as high-quality and shows it higher in search results.
Because people are spending more time on YouTube, it's worth having a long-form video strategy in the mix to keep viewers engaged longer. While some content is suitable for shorter videos, don't stray away from uploading longer videos.
YouTube videos also rank in Google search results. Here's how you can increase the chances of ranking:
Create "How-To" content
Create Tutorials
Incorporate humor
Increase organic views
With so many subscribers, channels, and viewers on the platform, increasing traffic on YouTube has become a challenge for brands. We've compiled the following tips to boost the organic reach of your YouTube videos.
Conduct thorough keyword research
YouTube's algorithm takes into account keywords in the channel description, video titles, video descriptions, and tags. Ask yourself: what is my audience searching for on YouTube? Now take that knowledge and research how your audience is looking for that content. Are they typing in "How to" or looking for something more specific?
YouTube auto-suggest is a great place to start. Let's say your video is about styling ripped jeans. YouTube auto-suggest provides insights into what people commonly search and you can get a pretty good idea of what to title your video, too.
However, like all things on the internet getting more YouTube views has been a pursuit that people have started to throw money at–sometimes through shady enterprises–to promote their content. People are buying YouTube views in hopes of either fooling YouTube's algorithms or convincing people that so many others have watched their video so they should too.
There are just a few problems with this approach:
YouTube's bot detection capabilities are getting better and better
The algorithms are paying more attention to user behavior rather than view counts
It can be expensive
If you're a marketer or content creator wanting to increase your YouTube views for free, then the process will take time and effort; however, if you do it right you'll be rewarded with more views, a better user experience, and opportunities to expand your content and audience viewership.
With its extensive amount of users, YouTube is one of the premier platforms in the world to reach audiences. Whether you're sharing recipes, teaching people how to create muppet origami, or spoofing presidents, the platform has the ability to reach billions.
YouTube has its own algorithms
Like Google's search results algorithms, YouTube has its own algorithms used to showcase the best and most relevant videos to users.
Imagine if a blind person had the task of categorizing content by which content was best.
Sound difficult?
Thankfully, YouTube has a wide variety of factors in its algorithm to decide which videos are the best and rank at the top of its search results.